Teeth Straightening with Invisalign
In Westlake Village
PROFESSIONAL INVISALIGN ORTHODONTICS IN WESTLAKE VILLAGE
Invisalign is almost an invisible alternative to braces. Instead of using metal braces, teeth are directed and straightened using custom-made transparent aligners. The wearer can take off aligners when eating and brushing their teeth, and worn for 20 to 22 hours daily.
Invisalign is an excellent treatment option for patients who want to straighten their teeth without worrying about them being covered in metal. They are aesthetically pleasing and utterly invisible without any metal wires.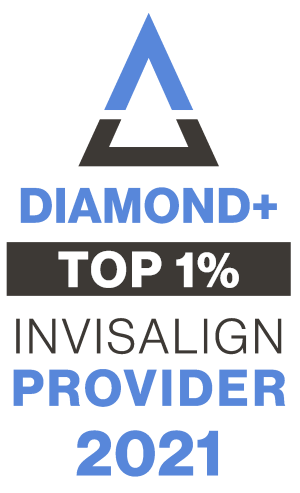 Once our specialist, Dr. Lee, has established you're a viable candidate, we will provide a treatment estimate and give you all the details while answering questions. If you decide to go with this treatment, we will take your records which include an intraoral digital impression of your lower and upper teeth, accompanied by a 3D x-ray of your jaws and teeth, and 360-degree photos of your smile and teeth.
Dr. Lee will create a complete treatment plan and build an Invisalign according to your teeth and jaw. Once we've done that, we will make an appointment to place resin attachments on some of your teeth so that you can snap the aligners onto your teeth.
How our Invisalign services in westlake village help
We use Invisalign treatment for different purposes, such as bite issues, spacing, crowding, etc. However, we always recommend a thorough consultation and explain all the options available to our patients.
Our goal is to find what works best for you, and we don't go for this option unless you're a valid candidate. However, Dr. Lee is one of the top Invisalign doctors in the country and can treat virtually all types of situations with Invisalign even when most other doctors would not. If you have one of the following issues, Dr. Lee could help you:
Every patient is specific and requires a thorough examination. Invisalign is a great option for people who don't want to wear braces.
WHY IS INVISALIGN TREATMENT BETTER THAN BRACES?
Many people choose this option because of the aesthetic factor. Aligners are clear and unnoticeable in most cases. You can remove the aligners from your mouth whenever you need to, like when you have to floss and brush your teeth, without having to worry about any brackets or wires.
People with traditional braces can have a wire break or a bracket fall off, which means they have to make an emergency visit to an orthodontist. Aligners must also be removed when eating or drinking, and caring for braces might be a nuisance at times, but it prevents food and bacteria from getting stuck in your teeth.
We understand that wearing braces is a big commitment and can affect how you see yourself and your confidence. Feel free to talk to us, and we will share all the details you need to know and go through all the different types of braces we offer, including metal, plastic, ceramic, and a combination of materials.
Hours of operation 08:30 AM to 5:00 PM
Address 228 Lombard Street, Suite A Thousand Oaks, CA 91360
Dr. Thomas C. Lee is a trusted orthodontist located in Thousand Oaks. Providing a full range of orthodontic care including Invisalign and braces for children and adults.