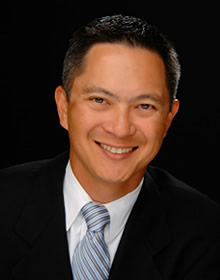 About | Dr. Thomas C. Lee, DDS, MS
Becoming an orthodontist is extremely rewarding. I feel fortunate to be a part of such a wonderful profession. Not only do I enjoy creating beautiful, healthy smiles, I also enjoy meeting and building relationships with children, teens, adults, and families in our community. With orthodontics, my team and I change lives every day! The ability to give children and adults more confidence by changing their smile is priceless. For some, it's restoring the ability to eat and chew without difficulty or pain.
My drive to become an orthodontist began when I had orthodontic treatment as a teenager. I was amazed at the changes that were happening in my mouth with braces! I grew up here in Southern California, in the San Fernando Valley, and attended the California State University, Northridge for my undergraduate education. The University of Southern California School of Dentistry was my next stop for the next seven years: four years to earn a Doctorate of Dental Surgery, and three more years of orthodontic residency and a Master of Science in craniofacial biology.
Continuing Education & Experience
After completing my orthodontic residency in May 2002, I moved to Ventura County and became an associate in an orthodontic office in Oxnard. I purchased that office later that year in December. I also began practicing in the Conejo Valley in Thousand Oaks starting in 2009. Since then, I have been serving the communities with the goal of providing friendly, caring, high-quality orthodontic treatment that utilizes the most up-to-date techniques and technologies. Invisalign®, Damon System, 3D cone bean computed tomography (CBCT), and temporary anchorage devices (TAD) are amazing technological advances that I have implemented into patient treatment.
Continuing education is vital to keep abreast of the latest research and advances. I enjoy learning and attend several meetings throughout the year. I am also a member of two local study clubs with dental colleagues to discuss treatment options for difficult cases, and to present journal articles to keep each other educated in all aspects of dentistry.
Being a positive, contributing member of our community and society is important to me. Children are our future. That is why I have chosen to support the Boys and Girls Club. This wonderful organization gives a safe, positive, nurturing, supportive place for kids and teens to play and learn.
My wife Heidi and I met during our undergraduate studies in 1993. She is the pillar of my life. We have two wonderful children, Parker and Sophie. When I am not in the office, my time is spent with my wife and kids, mountain biking, watching USC football (FIGHT ON!), and snow skiing.